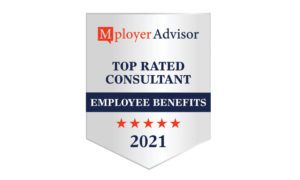 Bennett & Bennett Ins. Inc. recognized as a 2021 Top Employee Benefits Consultant for Southern Indiana by Mployer Advisor
Corydon, IN 9/15/2021, Bennett & Bennett Ins. Inc. is recognized by Mployer Advisor, an independent platform for employers to research, review and evaluate insurance brokers, as a Top Employee Benefits Consultant Award for 2021 for Southern Indiana. Mployer Advisor's Top Employee Benefits Consultant Award recognizes brokers for demonstrating market-leading competencies in several areas.
"Who an employer chooses as their insurance advisor has significantly more impact on the quality and cost of a benefit plan than who they chose as the carrier. We are proud to honor these firms who have demonstrated a wide range of experience in combination with positive employer feedback on service and quality," said Brian Freeman, CEO of Mployer Advisor.
"I am personally very proud of this industry recognition. We have always strived to provide strategic benefit plans, tailored to each employer partner, with the highest customer satisfaction," comments Pamela Bennett Martin, CEO. "Our team serves over organizations in the southern Indiana region. We have seen a significant need for our services as organizations continue to reemerge after the pandemic", Pamela Bennett Martin continued.
To determine award winners, Mployer Advisor analyzes each brokerage based on historical data to gauge the range of business experience across employer sizes, industry experience and products, combined with employer ratings and reviews of insurance brokerages across several platforms. Results are a snapshot of Mployer Advisor's matrices and proprietary M Score on May 31, 2021.
About Bennett & Bennett Ins. Inc. :
Pamela Bennett Martin
Bennett & Bennett Ins. Inc.
About Mployer Advisor:
Mployer Advisor is changing the way employers search, evaluate and select insurance advisors. Our goal is to connect employers and employees to great benefits and insurance. We do this by providing employers with actionable data to easily evaluate and select the best advisor for a company's unique needs. Mployer Advisor provides independent ratings of insurance advisors to support employers. The rating is our opinion and should be one of many factors, including when selecting a consultant. An insurance brokerage cannot pay to influence their Mployer Advisor rating. Most brokerages have a profile on Mployer Advisor. Only highly rated brokerages are allowed to advertise on the platform. To learn more about Mployer Advisor visit https://mployeradvisor.com.